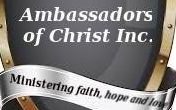 Worthy home "peace"
Matthew 10:9-15
9 "Do not get any gold or silver or copper to take with you in your belts— 10 no bag for the journey or extra shirt or sandals or a staff, for the worker is worth his keep. 11 Whatever town or village you enter, search there for some worthy person and stay at their house until you leave. 12 As you enter the home, give it your greeting. 13 If the home is deserving, let your peace rest on it; if it is not, let your peace return to you. 14 If anyone will not welcome you or listen to your words, leave that home or town and shake the dust off your feet. 15 Truly I tell you, it will be more bearable for Sodom and Gomorrah on the day of judgment than for that town.
God supplies all our needs when we make it a priority to do his will!
One of the things that is rewarding is when you work on a project, say building a shelf, repairing a broken pipe, searching for that wanting item for the right price, or helping a child learn a school problem and achieving the desired outcome. It is a great feeling of accomplishment, when you set out to do something and it gets down the way you want it to. Jesus sent out his disciples with that same mindset, that they would accomplish that what he sent them to do. The disciples needs as they went out on their mission was going to be satisfied, whether they would need food, money, clothing or what ever they would need it was going to be done. When we ad-heed to the mission God has for us the same goes for us, he will provide everything we need to accomplish what we are commanded to do. We do have a mission! In Matthew 28:18-20 and it reads "And Jesus came and spake unto them, saying, All power is given unto me in heaven and in earth. 19 Go ye therefore, and teach all nations, baptizing them in the name of the Father, and of the Son, and of the Holy Ghost: 20 Teaching them to observe all things whatsoever I have commanded you: and, lo, I am with you always, even unto the end of the world. Amen". And, in order for us to do what we are supposed to God promised that all our needs would be met. Paul said that God would supply all our needs according to his riches in glory in Christ Jesus (Ph4:19). David said that the righteous is not forsaken nor do they beg for bread (Ps37:25). One of the things that qualifies us to having God supply our needs is our decision to do what he calls us to do, many have their needs met because of their efforts and chance in life.
But, when one is passion to doing God's will they are classified as a worthy person to his kingdom. Now, according to the dictionary one of the definitions for worthy is weighing, having weight, having the weight of another thing of like value, worth as much. And, we become Christ like when we seek to do the will of the Father (Ro6:4). As Christ followers we weigh the same, we are all the same, and we are going to encounter others in Christ. Our homes need to reflect who we are in Christ, because it is one thing that we are worthy before the Lord and our homes are havoc. When we are out seeking to do the will of God it is when his peace rules our homes. The word peace in our text today means exemption from the rage and havoc of war, and if we notice today how many people are filled with rage it is astronomical. So, it is possible that while we are believers that our homes could be filled with rage and havoc. Jesus said my peace I give you not like the world I give you (Jh14:27). In order for much of the rage in our society to seize, the people of God have to rise to the expectation. We are peace makers, but before spreading peace to other homes are homes need to be in order (Mt5:9).
Peace I leave with you; my peace I give you. I do not give to you as the world gives. Do not let your hearts be troubled and do not be afraid. John 14:27